Winter screen wash ready for use ADVA CRYSTAL /-20°С/ - 3 litres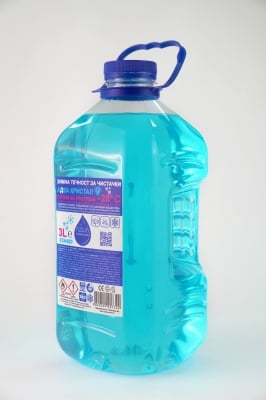 Winter screen wash ready for use ADVA CRYSTAL /-20°С/ - 3 litres
Details
Information
Winter Screen Wash ADVA CRYSTAL
READY FOR USE -20°С
Contains ethanol, surfactants.
Guaranteed smooth operation of the windshield wiper system. Effectively and rapidly eliminates insect debris, dust or other kinds of dirt.
3L Ethanol
Name of the active substance: Ethanol (denatured ethyl alcohol)
Ethanol content: 80g/100g
Warning! P102 Keep out of reach of children. Prevention: P210 Keep away from heat / sparks/ open flames/ hot surfaces – No smoking. P233 Keep container tightly closed. P240 Ground / bond container and receiving equipment. P241 Use explosion-proof electrical / ventilating / light / equipment. P242 Use only non-sparkling tools. P243 Take precautionary measures against static discharge. P280 Wear protective gloves / eye protection / face protection. Response: P303 + 361 + 353 IF ON SKIN: Remove / Take off immediately all contaminated clothing. Rinse skin with water / shower. P370 + 378 In case of fire: Use powder, water spray for extinction. Storage: P403 + P235 Store in a well-ventilated place. Keep cool. Disposal: P501 Dispose of contents / container in accordance with local / national regulations.
WARNING! GHS02 GHS07
H226 Flammable liquid and vapour.
Product manufacturer: ADVA International LTD