Air purifier Karcher AF 100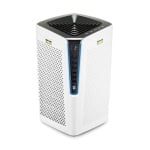 New product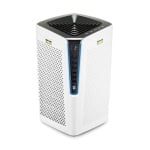 Air purifier Karcher AF 100
Details
Information
Description of AF 100:
Dust, smells, chemical gases: The quality of the air of many work places is not always perfect. Our professional air purifier AF 100 provides an easy solution to the problem. Its powerful motor needs only a few minutes to provide fresh air in a room with size up to 100 m². The device can easily be moved and positioned in a different room thanks to its solid wheels. Depending on the application you can equip your air purifier with different filter inserts. They include one complete filter with an extremely wide range of efficiency, meeting all application requirements. Or you can choose between the four other filters, specially designed to intentionally eliminate the bacteria, smells, allergens and volatile organic compounds. Precise laser sensor is integrated to continuously monitoring the air in the room and to control the automatic mode. The quality of air is constantly showed in a clear color-coded diagram. Furthermore, the current content of fine particulate matter in the air and the remaining filtering time can also be monitored on the display anytime.
Advantages:
Five filter inserts for different applications
Special filters for eliminating bacteria, allergens, smells and volatile organic compounds
Easy movement between rooms due to the solid wheels
Powerful motor for spaces with size up to 100 m²
Air fan with 3 gears
Intuitive work and easy maintenance
The life of the filter can be tracked on the display. Clients can easily change the filter themselves.
Precise air quality measurement by laser sensor – it shows the results in a color-coded diagram (blue = very good, green = average, red = bad). The data in the fine particulate matter sensor (PM2.5) in the air are showed in the integrated display.
Optional filters for AF 100 can be ordered separately. When necessary do not hesitate to contact us!
Technical characteristics:
Power supply: 220-240 V
Capacity: 80 W
Suitable for rooms with size 100 m²
Noise level: 20-48 dB
Size LxWxD: 380 x 380 x 713 mm
Pieces of equipment:
Control panel
Pre-filter
Automatic mode
Cable length: 2,25
Night mode
Change filter indicator
Steering wheels
In the technical description you can find the maximum size of space for the device to be effective. You can decide for yourself how many devices would be necessary for different offices.