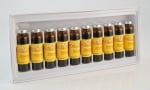 New product
Details
Information
Astragalus is herb used for thousand years in China as a natural resistance against viral infections. Astragalus in combination with Reishi is an ancient recipe for rapid body strength recovering.
Astragalus has been used for thousand of years in the East as a vitalizing herb for building up resistance against viruses and infections. In Traditional Chinese Medicine, Astragalus is known as a first-class herb which vitalizes Chi. One Chinese proverb says: "If you want to get up and go, use Astragalus".

Modern research shows that the plant has a lot of powerful immunostimulating properties. The research proves that Astragalus has an effect on thymus and spleen.
It increases the activity of killers T-cells and in this way it improves immunity.
If you suffer from acute and chronic infections, Astragalus is the herb that can get you back to your feet. The recommended course is one month, 1-2 vial(s) a day.
RECOVERING STRENGHT
Recommended dose: 1-2 vial(s) a day before meal. Shake well before use.